Welcome to the month of April. It's the second quarter of the year and we remain focused in our drive to make sure that we deliver on our goals. The NerveFlux — a Real World Asset (RWA) ecosystem and the crypto market saw a reasonable level of growth during the first quarter. This report will focus on the current and upcoming events in the NerveFlux ecosystem as it also relates to the general crypto market.
The Real Estate Marketplace whitepaper:
As was stated during the last AMA, the marketplace whitepaper was released on 16th march and its available on the NerveFlux website for download. The COO released the NerveFlux marketplace whitepaper stating some mechanism in the marketplace are not included in the whitepaper to prevent NerveFlux idea from being stolen.
Website update: The NerveFlux website was redesigned in preparation for the launch of the worlds first real estate marketplace. It was officially launched 16th March 2023.
Staking Live:The NerveFlux ecosystem has different staking options that will help investor make passive income. March 16th, a staking option with 180 day's locked period was announced. Users can stake Nerve and earn BNRV at 1% APY.
BabyNerve BNRV privatesale: A unique token with amazing tokenomic, BNRV private sale ended 7th April 2023. As highlighted on nerveflux.io, private sales token will be locked for 90 days, thereafter release 25% monthly.
KYC Verification for BabyNerve BNRV: Although, NerveFlux is a registered company here in Europe, we have chosen to go for KYC verification. Twice the NerveFlux team has passed KYC verification with pinksale and AuditRate.
Smart Contract Audit: Like Nerve, the BNRV token has passed Smart contract audit with Audit rate. In the coming days we await the second Audit result done by Analytix Audit.
Marketing:
After about 1750% growth within 48 hours and trending on several websites, it is clear the NerveFlux team strategies are paying off. With upcoming presale of BabyNerve (BNRV) token 5th to 7th May 2023, NerveFlux Real Estate Marketplace closed beta testing and the upcoming tier 1 CEX listing, NerveFlux has initiated insane Marketing which will include publication in Yahoo finance, Benzinga, Cointrust, News bitcoin 24/7,newsBtc, AMBcrypto, Coin Telegraph and others.
NerveFlux has negotiated with various call channels which include but not limited to, Gollum and Caesars Calls.
BabyNerve (BNRV) VS Nerve: To maintain the health of NerveFlux ecosystem, it was designed as a two token ecosystem. These two token are independent and they both play unique role.
BabyNerve (BNRV) is a multichain token with 4 million maximum supplies on the Binance Smart Chain Network. Its is the primary token on which the real estate marketplace is built. BabyNerve is the second token in the ecosystem, designed to power the NerveFlux marketplace. It can be used for payment of transaction fees with a 50% discount and it will be the first non stable coin/token to be listed in the marketplace for real estate transactions. Aside from its use for payment of transaction fees for seamless purchase of real estate properties in the marketplace, the BabyNerve will be used for governance purpose in regards to NerveFlux DAO and also for Prime Property Club -PPC.
Nerve token exist only on the BSC Network, Aside its use for the tree planting program, it will can also be used to purchase on the NerveFlux marketplace via the BSc network. Further use case will be revealed soon (unique and outstanding). Do understand that we have , P2E gamFI, NerveFlux NFT & other use case that will be launched later which will include Real Estate Tokenization and many more feature.
Tree Tagging Event:
A tree will be planted for every wallet address (terms and conditions applies). The NerveFlux Team has choose May 27th as its second trees Tagging Event date. Several trees has been tagged and planted. More will be tagged as we continue with our charity programme.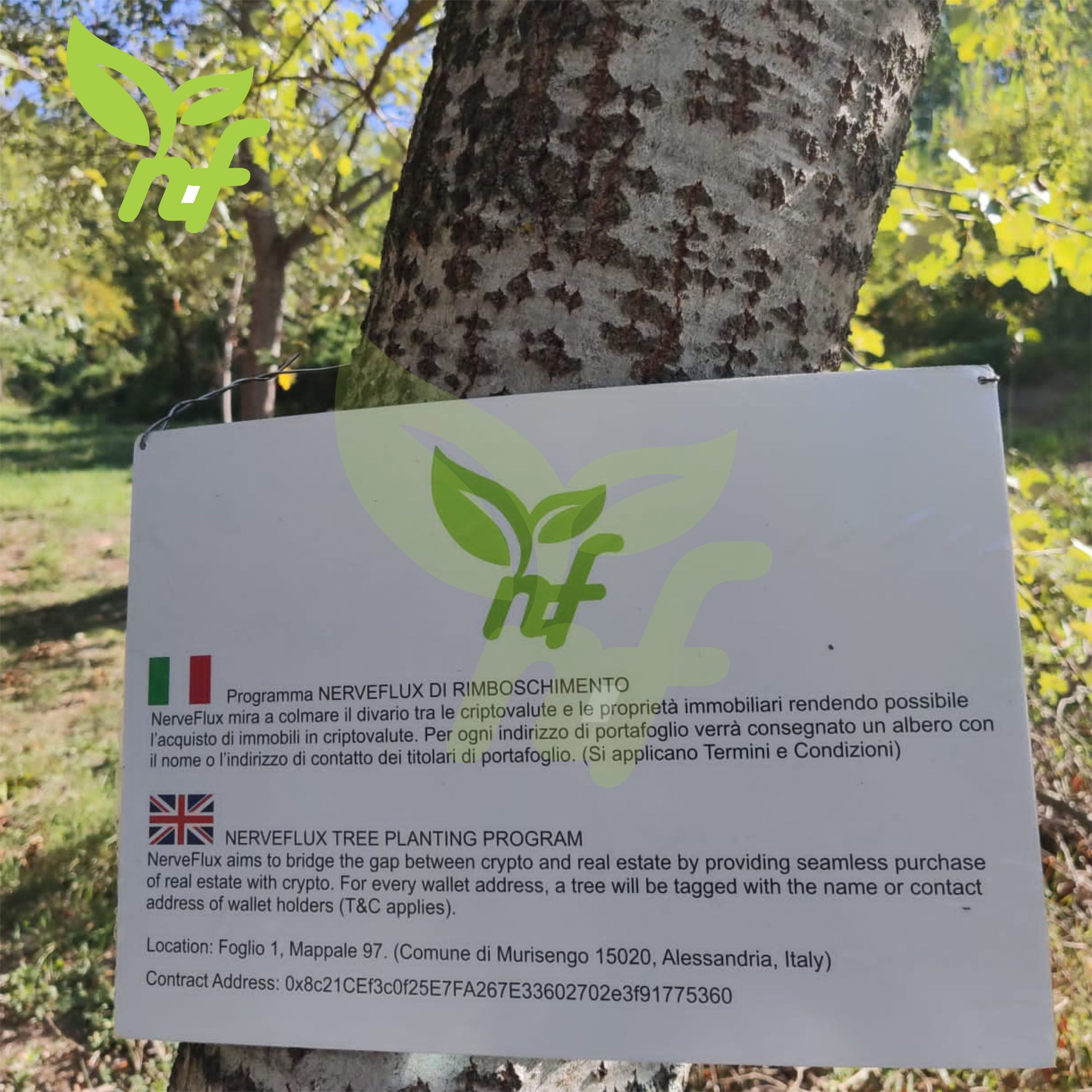 CEX Listing: Once again the team state their sincerely desire to get BabyNerve and Nerve token to tier 1 CEX. After the launch of BNRV we hope to have concluded several listing negotiation so we can give the community some big news that a Real World Asset (RWA) token like NerveFlux deserves.
As team we would love to give more detailed information about listing but that will breach our contract with our partners. We await the big news from our partners so we can also share with the community.
About NerveFlux Marketplace
A decentralized Real Estate Marketplace where investors/users can buy and sell properties with crypto seamlessly. NerveFlux will employ NFT, P2E, Tree planting and Metaverse as it main use case.
Twitter Telegram Facebook YouTube LinkedIn Reddit Medium Website